Description of airport from Wikipedia:
Genoa Cristoforo Colombo Airport
(IATA:
GOA
, ICAO:
LIMJ
) is built on an artificial peninsula, about 6 km (3.75 miles) from the city centre of Genoa, Italy. The airport serves the Port of Genoa, and is currently operated by Aeroporto di Genova S.P.A., which has recently upgraded the airport complex. In 2008, 1,202,168 passengers travelled through the airport.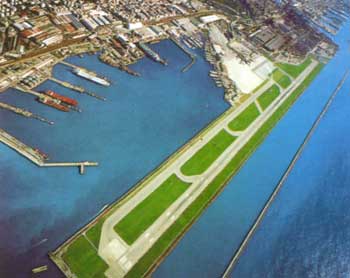 Runways in use: 11 and 29 (ILS) - 9,564ft long. Runway 29 is the most commonly used runway for airliners including Ryanair's aircraft - and a short backtrack is needed to make best use of runway length during takeoff. When wind prohibits runway 29 from being the active, runway 11 is used. It is not ILS-equipped so therefore requires a complete visual approach or an approach to ILS 29 followed by a circle-to-land procedure whereby the aircraft performs a 180 degree turn. Due to the airport's proximity to mountains, for departures to the north from runway 29, aircraft must first fly a pattern over the sea to gain altitude before heading towards the mountains. Likewise, for arrivals from the north into Genoa, aircraft must fly a pattern over the sea to lose altitude before making their final approach.
Ryanair's destinations:

London Stansted: STN-GOA (0635-0940 winter, 0950-1255 summer)
Cagliari, Sardinia: CAG-GOA - starts 30th March (1605-1740)
Alghero, Sardinia: AHO-GOA - starts 1st April (1000-1130)
*There used to be a route to Frankfurt-Hahn (HHN) but this was recently scrapped as it was an underperforming route.
The Airport
A small airport set over two levels (arrivals and departures) with only a handful of check-in desks and gates in the main building (around 8 of each). There are also other remote stands that can be used should the need arise (the airport receives diversions from Pisa, Turin and Milan quite frequently so a good variety of aircraft is usually seen)! Buses are used to take the passengers to and from these remote stands. Ryanair aircraft use self-manoeuvring stands to avoid using the jetbridges and pushing back. The airport has a cafe in the arrivals hall, and one in deparures before security. After the security checkpoint, there is a cafe in the international departure lounge and one in the domestic departure lounge. The airport also has one Duty Free Shop - 'Dufry'.
Getting There
There is no direct rail link to this airport; you can only reach it via road. However, Cornigliano train station is quite nearby if you don't mind a walk or a short taxi journey. The best way, however, is to get the 'Volabus'. It is a shuttle service that departs every hour from Genoa's main train station, Principe, going directly to the airport with 2 pick up points along the way. Journey time is approximately 15-20 minutes and the cost is 4€. The Volabus ticket also lets you travel on all of AMT Genoa's bus and lift routes, as well as Trenitalia's train routes inside and around Genoa for 24hrs from the time you stamped your ticket. Timetable information can be found here: http://www.amt.genova.it/rete_e_orari/volabus.asp It is not advisable to get a taxi to or from the airport as these can be quite costly - ranging up to 50€! Only do this if you are in a large party - you are then eligible for a discount. The discount offer is shown on a board by the taxi rank, directly in front of the arrivals building. You must, however, ask for the discount offer - it will not be supplied unless you do!
What's Nearby?
This is the airport to come to if you're interested to see the little
vicoli
in Genoa, its historic monuments, the aquarium, or if you're catching a cruise (there is a large port here). Alternatively, Portofino is a short train ride away - as are the famous Cinque Terre. Train duration to Nice, France is approximately 3 hours - and this is about the same for a train to Pisa too.
Pictures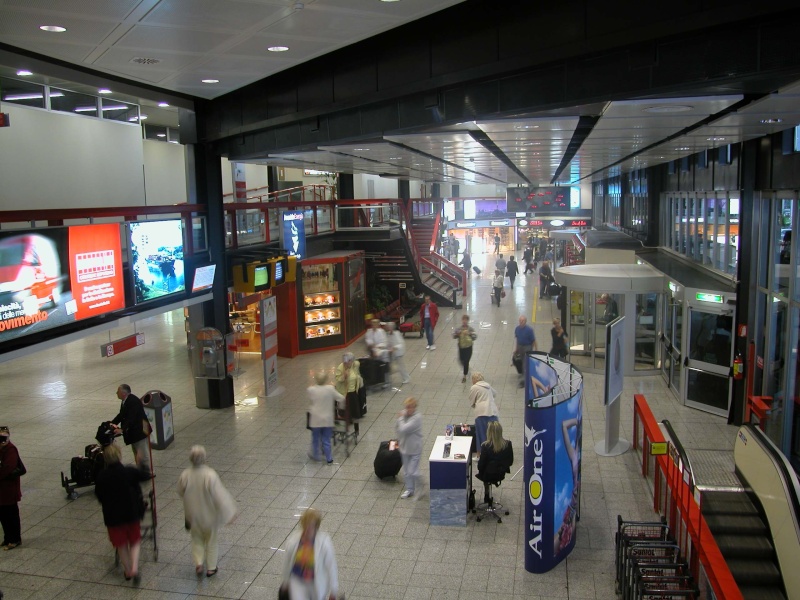 Departure Hall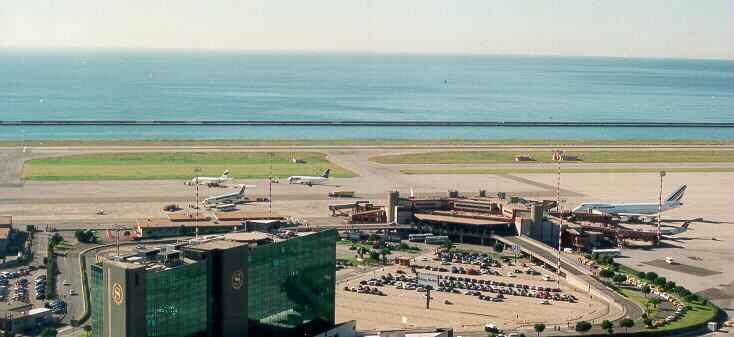 Aerial view with the Sheraton hotel clearly visible at the bottom of the picture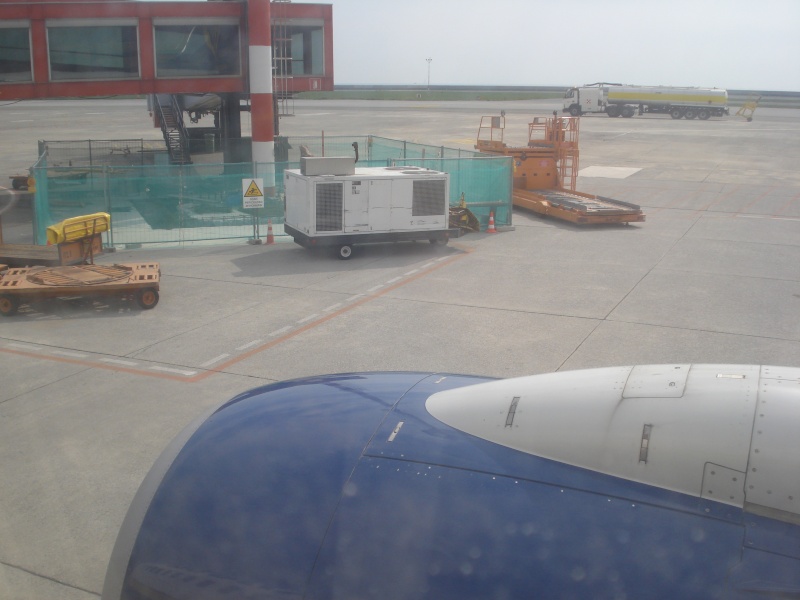 The obligatory shot of a Ryanair aircraft at Genoa airport
Last edited by jqjjq on Fri 20 Feb 2009 - 16:30; edited 1 time in total

jqjjq

FR Fan





Number of posts

: 28


Location

: Kent


Registration date :

2009-02-10



what th B747 from Air France is doing at thise Airport ? Does Nice was closed or what ?

msep003

FR Fan





Number of posts

: 37


Location

: Paris


Registration date :

2008-11-11



Oh my god! This runaway looks beautiful! Also the shortcut is something special for me, as Goa is a province in India and the place, where my favourite style of music, goa trance, was born :-)

amnesia

FR Lover





Number of posts

: 441


Location

: wroclaw, poland


Registration date :

2009-01-11



Looks great, the runway on the wother!

RyanAdmin

FR Admin





Number of posts

: 360


Location

: The Netherlands (nearest FR airports: NRN and EIN)


Registration date :

2007-09-06



Wow! It looks soooooo nice!
Runway with sea view!


fly4w4y

FR SuperFan





Number of posts

: 231


Location

: Italy - Nearest CIA


Registration date :

2009-02-04



A few pictures recently taken at GOA :
In front of the terminal : an old (1917) Ansaldo SVA5, in a glass enclosure :
The Volabus : 30 minutes and 6 euros from the Brignole railway station to the airport, via the Principe railway station :
The terminal :
Check-in desks :
The apron :
From a departing RYR 737 :

atoutprix

FR Moderator





Number of posts

: 2351


Location

: Brussels, Belgium (nearest FR base : BRU)


Registration date :

2007-12-13




ALEXANDRECCFAIRPORT

FR Veteran





Number of posts

: 534


Location

: Charleroi


Registration date :

2010-04-20





Similar topics
---
Permissions in this forum:
You
cannot
reply to topics in this forum